Putting an image onto a glass object—such as a glass ornament, awards, mirror, or window—is a way to personalize and decorate. With digital printing you can apply any type of image that you want on glass. Also, because there are so many things you can decorate by printing on glass it is a great way to start a niche business. Our favorite way to print on glass is with a DigitalHeat FX System… because it is easy efficient and has excellent results.
Equipment you need to get started
With a digital printer you have the ability to print full color transfers. That means you can print vibrant portraits, illustrations, landscapes and more. These can then be heat applied to a variety of glass objects to create long-lasting keepsakes and glass decorations.  
The DigitalHeat FX System is an exclusive system for producing great looking transfers on thousands of different items. The magic of the system is the EZ Peel paper combined with Print Optimizer software which prints vibrant high-quality color using our white toner printer systems.
Bundled together with the incredible Hotronix line of heat presses and the best expertise in the industry. The DigitalHeat FX System allows anyone to create full-color transfers in a single pass with no liquids, no weeding, and no mess. It is an amazing advancement in transfer printing technology that is changing the transfer printing industry for t-shirts and so much more!
Oki 8432 or Oki 9541 White Toner Printer
A white toner printer is a CMY+W Printer. This is important when printing on glass because you don't want your picture to be see-through. If you were to just print CMYK (no white background) the toner is not thick enough to block out light, this will alter the look of your colors and image) The white toner can be applied behind your design to increase opacity. This type of printing solution gives you the ability to create a huge color spectrum all in a single pass through the printer.
EZ Peel Hard Surface Paper
Our EZ Peel Paper is a line of premium White Toner transfer paper. The EZ Peel Hard Surface Paper is specifically designed for application on hard surfaces like glass. The transfer paper is covered in a layer of polymer that adheres to only the toner when heat pressed. This allowed you to apply digitally printed photos to glass without any borders around your design.
Steps to printing on glass with the DigitalHeat FX System
Start with great art. CorelDraw, Photoshop or other professional software. If you aren't a great graphic artist, you can use a service like coldesi-graphic.com
1. Start with great art. CorelDraw, Photoshop, or other professional software. If you aren't a great graphic artist, you can use a service like coldesi-graphic.com
2. Put the EZ Peel Hard Surface Paper in your OKI White Toner Printer
3. Using the Print Optimizer Software, set up your art accordingly so that you can print several designs in one pass.
4. Adjust the heat and pressure on your Hotronix Fusion Heat Press to ensure you are getting even heat on your glass object. But be careful – use a medium pressure to ensure the glass doesn't break
5. Cut out your design from the transfer paper and apply it to the glass with Heat Transfer Tape.
6. Refer to the EZ Peel Hard Surface Paper instructions for time, temperature, and pressure information.
7. After you heat press the picture onto the glass, let it cool completely. We recommend the use of an ice pack.
8. You can then peel the transfer away from the glass and will be left with a vibrant photo that looks like it was printed directly onto the glass.
9. Then, refer to your paper instructions again for the finishing step which is done in the oven.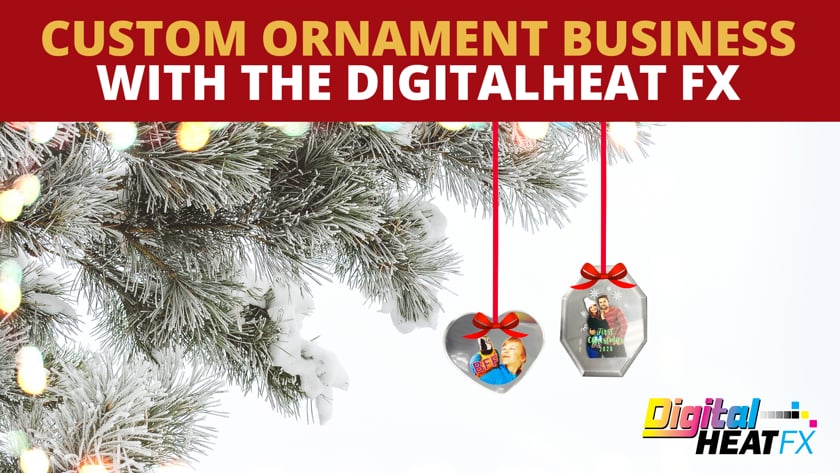 How to make a business by printing on glass: Custom Glass Ornaments
Once you know how to print on glass, you can design and personalize custom glass ornaments. This is an easy way to start a niche business…especially during the holidays. Because ornaments are small and the EZ Peel Hard Surface Paper is 11"x17", you can affordably print several glass ornaments at once.
What can you print on glass ornaments?
Photos are the best way to customize a glass ornament. A digitally printed, professionally quality portrait on a glass ornament, like the ones in the video, looks awesome. These are the kind of things that get the buyer's attention. Christmas and the surrounding holidays are a great time to print memorable designs on glass ornaments. Baby's First Christmas, Best Friends, Family Photos, Weddings & Anniversaries are just a few popular ways to get customers excited. 
How much money can you make printing on glass ornaments?
You can find glass ornaments for as little as $4 apiece. But if you wanted to get a higher quality glass, like crystal, you could easily increase your retail value. After a quick search on Etsy, we found that custom ornaments retail for around $30. But here's the thing… none of them are digitally printed, full-colored portraits! That means you are automatically ahead of the online competition.
How to Sell Printed Photo Ornaments Online
Selling personalized things is much easier than ever. Have you seen ads on Facebook for custom t-shirts, signs, cards, mugs, etc…. imagine a custom glass printed ornament ad on social media around the holidays?
What are the keys to selling online with Ads
Overall printing on glass is something that is easy to learn and can be a very profitable endeavor. What is especially exciting is that white toner printing systems are fairly new to the market. They have been around long enough to have proven themselves to be a great technology, but not long enough where the market is saturated. You can offer printed glass ornaments that no one in your area can even produce. This is an exciting technology and a great way to print on glass.


If you have any questions about printing on glass just live chat with one of our pros or give us a call.