Print Optimizer is the link between your ideas, your creativity, your graphics talent and the DigitalHeat FX line of white toner printers.
Making custom t-shirt transfers with a white toner printer is an art and a skill. It combines your design sense, or your customers, with the technical side of printing with a specific technology.
That's where Print Optimizer software comes in!
Computer Requirements:
Windows 7, 8 & 10 . Dual Core (2.0 ghz) or higher, 500gb HD, 2GB Ram. Recommends, Triple Core (2.0 ghz or higher) 750+gb HD, 4GB Ram.
Currently No Apple / Mac OS Compatible version.
The DigitalHeat FX product line is the combination of a white toner printer, professional level heat press, special transfer paper (EZ Peel), and all the training you need to get started in the custom t-shirt business.
AND it includes Print Optimizer software that is specifically designed for our combination of those different products to ensure you get a great printed transfer and a happy customer.
Technically, Print Optimizer is a "RIP" Software. That stands for Raster Image Processor. It's a software that's designed to help you take an existing image and produce the best possible result as efficiently as possible for specific printers
The process goes like this:
Graphics Software -> Print Optimizer -> Digital HeatFX Printer
This provides a better print with production optimization capabilities.
Overview of Print Optimizer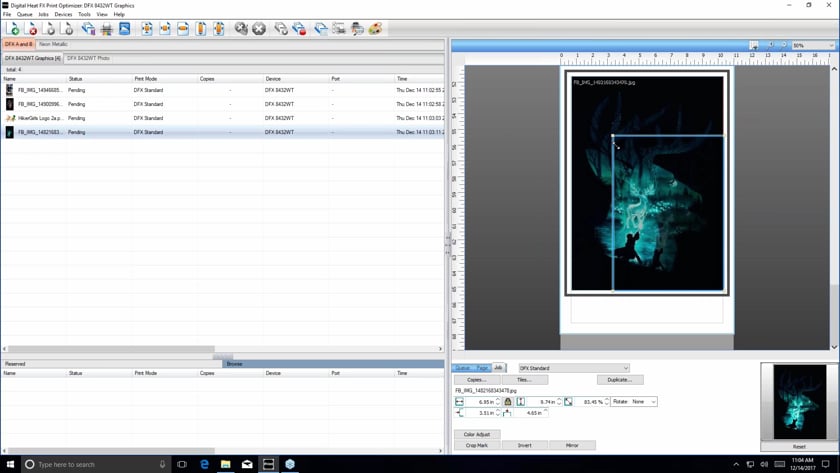 Favorite Print Optimizer Features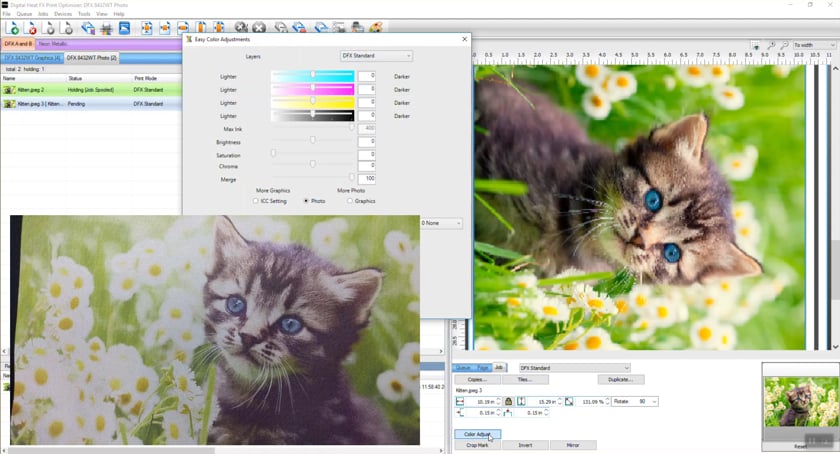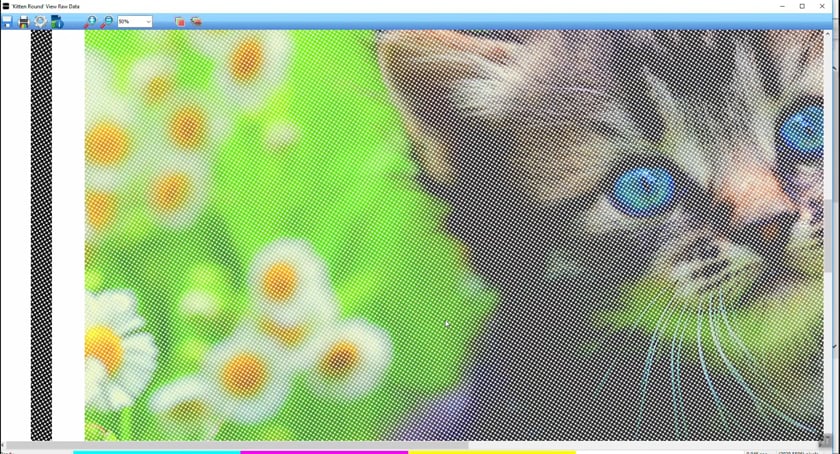 Do you HAVE to use Print Optimizer?
The short answer is no. All of our DigitalHeat FX printers are based on a kind of laser/led full color printer.
But instead of the traditional 4 colors you, or any graphic artist, might be used to using, a white toner printer substitutes (in most cases) a WHITE toner cartridge for the black.
You can still print black, of course. It's just a composite of the Cyan, Yellow and Magenta instead of having a separate cartridge.
The white toner is there specifically so you can create a t-shirt transfer that will go on ANY color and almost ANY fabric. If you didn't have white toner and wanted to put a design on a black t-shirt it would just come out muddy.
Like painting a dark wall with a really light color, but not priming it first.
Print Optimizer was made to work with white toner, or a white "underbase", while a standard graphics software is usually not.
So – if you print directly with a standard graphics software it's just not likely to come nearly as good as if you use this RIP software.
Benefits to Using Print Optimizer for white toner printing
The software also saves you money. You can MAKE MORE on every shirt!
When you print a full-color custom t-shirt transfer with the DigitalHeat FX system and the OKI pro8432WT [Now branded the "Crio" 8432WTD white toner printer], the cost toner costs aren't much – fractions of pennies sometimes.
However, it adds up over time. So we've included unique toner saving features in the Print Optimizer software.
And here's the best news! Print Optimizer is now STANDARD.
These features are so important that we have decided to not sell the Digital HeatFX system without it!
You not only get the white toner printer, the professional heat press, the Laser EZ Peel universal t-shirt transfer paper AND the best training available… But now, you get Print Optimizer as well.
We know that as designers and creators you may not have room in your budget for expensive software from Adobe® or Corel® (up to $1,500/set).
We've also included an excellent graphics software called GIMP with every copy of Print Optimizer.
No NEED to buy any other graphics software.
No NEED to bother with paid training or academies.
No NEED to learn complicated software features you may never need.
Invest that money back into your business!
Best of all, there are hours of free training videos on Gimp if you need help using it.
[Note: We offer GIMP software for your convenience. We do not provide training or support on Gimp or any software other than Print Optimizer]
There are also TONS more features in Print Optimizer to explore – we haven't even scratched the surface.
FEATURES LIKE:
Real Production Queues – you will be able to load up an almost unlimited number of jobs, then just print them one after the other
Knock Me Out colors – Printing on a blue shirt? Just remove that color from the design inside Print Optimizer. You'll save on toner, and the shirt will have a better/software texture.
Color and Saturation Tools
Dithering for simulating fade to nothing graphics
More..
We'll be growing our list of supported options and will keep all of our owners in the loop!
Good News about Print Optimizer
The best news here is that this software is included in every DigitalHeat FX bundle, regardless of which printer you choose. And it's "optimized" for each one, so you'll be able to get the most out of your new white toner printer system.
That is, unless you specifically request NOT to get it -which we strongly council against because it will limit your success.
Because when you get a complete bundle you also get:
Not just on the software, but on your printer, heat press, paper AND the whole system together.
And out training doesn't just focus on the white toner printer -that's the easy part. It's about the software and the entire PROCESS you'll go through to create your end product.
It's basically a "how to make a custom t-shirt" course specifically with you and
Most importantly, you get trained by people that actually MAKE custom t-shirts in house at ColDesi. Everyone you see, every lesson you review, is by someone that is making a shirt or a promotional product.
No "printer techs" that no nothing about your business!
All of your training is in a professional online learning system that you can access anytime.
Yes, our technical support team is here for you!
An advanced ticketing system gives you access by phone, email and even video to the best technicians in the business. In fact, NO ONE knows white toner printer for transfer production better than this team!
This is, of course, not the biggest, most expensive or most talked-about part of a t-shirt business bundle, but it IS vitally important!
So as you review your options, keep in mind this backbone of digital t-shirt transfer printing is a part of it.
New To DigitalHeat FX?
Chat with us during business hours below or click here to Contact Us with your questions.