Direct-To-Film Transfer Printers
The First Commercial High-Volume DTF Printer System to Fit through a standard doorway is here!
Looking for a real production transfer printer that's easy to use, easy to learn AND can fit in almost any shop?
What you have been looking for… is here!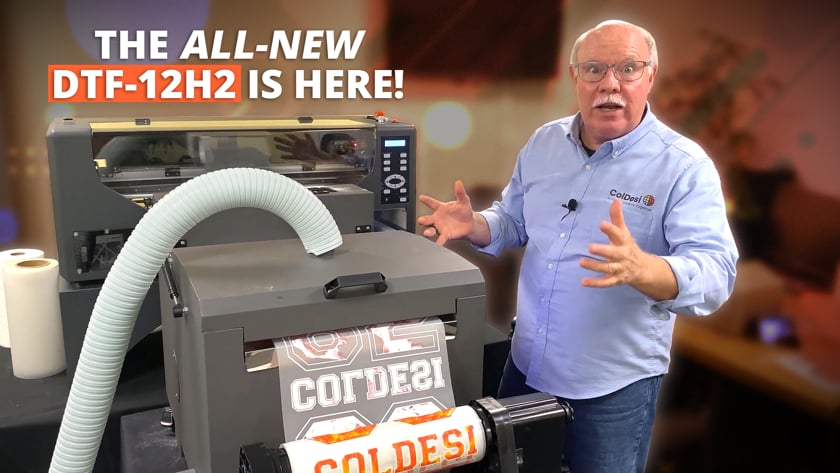 Introducing the DigitalHeat FX DTF-12H2:
The DTF-12H2 is a 2 head Direct-to-Film printer featuring a 12" wide print field. It produces vibrant full-color prints that: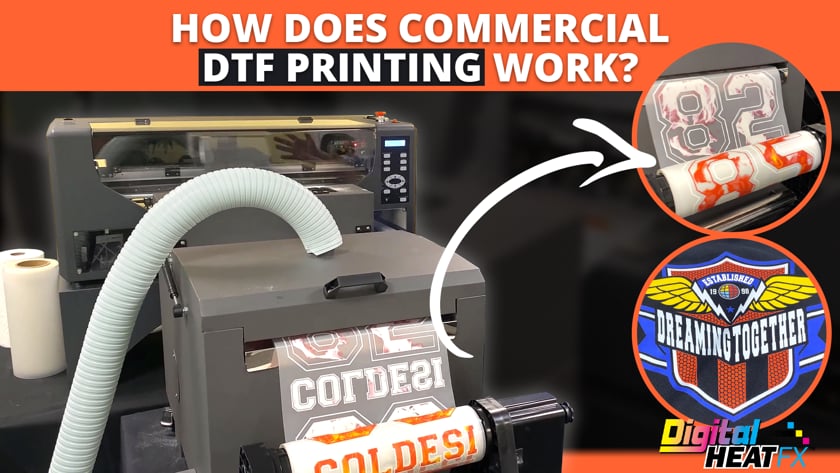 How does a DTF Printer work?
The printer has a dual print head design that lays down the colors in a blend of CMYK colors with the first printhead, and then lays down a white underbase on top of the colors in perfect alignment so that you do not have any white peeking out.
Adhesive powder is then automatically added to the back of the transfers. It's the unique powder adhesive coating that gives DTF prints their signature soft touch.
Instead of thick transfer films, or vinyl, the Direct to Film Process has only two ingredients.  The ink, and a thin coating of powered adhesive.
The DTF printer uses PET transfer film which is translucent so you can see the design underneath the film when you later heat-press it onto the garment.  The films used with the DTF-12H2 are both roll-fed and designed for a hot peel.
What are the Advantages of DTF?
finance as low as $338/mo*
Dimensions: Printer only: 39.75"w x 28.5"deep x 17.5"h (no stand)
29.5"h (with stand)
Shaker/Dryer: 27.5"w x 38"deep x 23.5"h

Print Optimizer Software - DTF Edition

30cm Hot Peel Film ONE 100m roll

DTF Inks ONE 250ml each of C,M,Y,K,Lc,Lm and TWO 500ml White

DTF Adhesive Powder TWO pounds

Training & Support
*Continental U.S. Only. With approved credit. Sale price cannot be combined with other offers. e.g. 0% financing.
Dimensions: Printer only: 39.75"w x 28.5"deep x 17.5"h (no stand)
29.5"h (with stand)
Shaker/Dryer: 27.5"w x 38"deep x 23.5"h

Print Optimizer Software - DTF Edition

30cm Hot Peel Film TWO 100m roll

DTF Inks TWO 250ml each of C,M,Y,K,Lc,Lm and FOUR 500ml White

DTF Adhesive Powder FOUR pounds

Training & Support

Digital Knight Heat Press 16" x 20" Auto Release Clam Shell
What can you Print with the DTF-12H2?
The beauty of the DTF system by DigitalHeat FX is that you can store your high-quality transfers for up to 6 months or more.  This allows you to sell printed transfers as is, on top of finished garments.
The custom apparel options are endless with DTF transfers. As mentioned earlier, they stick to a huge variety of fabrics and are the ideal solution for tricky placements.
Here's just a few customization ideas:
Call (877) 651-4700, chat or fill out the form below to learn more.
Can I Learn How to Use it?
YES! The DTF-12H2 is extremely easy to use. It has reduced controls with automatic features, making it an operator's dream machine.
Plus, when you become part of the ColDesi family you automatically get access to our world-class training and support.
Our online, self-paced training course will walk you through each step of getting your DTF-12H2 Printer ready and each module has been created to help you reach ultimate success.
Plus, you ALWAYS have access to these courses! All your employees can go through our special training program so that everyone on your team is prepared.
But odds are, you are just getting into DTF printing yourself. So, what happens after you finish training? Don't worry – WE ARE STILL HERE!
Support is what sets our customers apart. Our machine owners are equipped with a support team that is available whenever they need a helping hand.
Does It Come with Printing Software?
YES! The DigitalHeat FX System's include the Print Optimizer Software. This dynamic software gives you ultimate control over your printing production.
You can arrange your designs to get the most out of every square inch of your transfer film.
You can also manipulate the ink laydown.  If you are doing blended gradients, you can dial in the color accuracy on a per-channel basis.  If you are doing single color logos on white shirts, you can dial down the ink flow and put just the right amount of ink to make the shirt pop without ink waste.
See the DTF-12H2 in action!
Fill out this form for an online demo with a printing pro, Or call 877-793-3278 or chat below!
We believe in privacy and communicating in the best way for your business. By completing the above form, you agree to be contacted by ColDesi Inc through phone calls, emails, and text messages. You can opt-out of emails with unsubscribe links or opt-out of texts by replying STOP at any time.