Frequently Asked Questions
Add a header to begin generating the table of contents
You probably have TONS of questions about adding a DigitalHeat FX White Toner Printer bundle to your business – especially if you're just getting started!  We've collected a few of the most common questions we get on a daily basis and answered them for you here.
But the BEST way to get better informed is to chat with a Pro or give us a call! There's no substitute for talking your ideas and questions over with someone who knows. 
What kind of warranty comes with the white toner printers?
Your DigitalHeat FX OKI 8432 or OKI 9541 printer [Now branded the "Crio" 8432WTD, and 9541WTD white toner printer] will come with an industry exclusive, 2-year warranty. That warranty is offered through the manufacturer. The DigitalHeat FX i560 comes with a 1 year warranty. Keep in mind, these are fundamentally color laser printers, so service requirements are rare.
ColDesi offers process support and training courses for as long as you own your printer.
What kind of transfers does this produce?
Transfers produced with this system are full color digital transfers that require no cutting or weeding and can be applied to virtually any substrate.
What can these transfers be applied to? Are they just for t-shirts?
These transfers can be applied to nearly anything that can withstand just 220F of heat.  This extremely low application temperature allows not only for typical transfer substrates like cotton and polyester, but also things like nylon, leather, neoprene and non-woven polypropylene that are easily damaged by high heat. There are thousands of garment styles and materials, and new ones being created all the time. The Digital HeatFX is one of the most versatile systems for applications on most garments. 
Do I need a heat press or can I use an iron?
A good quality heat press is necessary in this process to ensure accurate time, temperature and a digital pressure setting. Some heat presses rely on manual pressure setting knobs -and that leads to uneven pressure, or incorrect pressure on the tranfer – and THAT leads to poor adherance to the material, poor washability and more. 
We always recommend very specific heat presses to ensure the best results!
Do I have to pay extra for Training?
Nope! We've got great self paced training courses for our Digital HeatFX systems and Print Optimizer software packages that we include with every system purchase. This is NOT included if you purchase the printer alone.
How much does a transfer cost to make?
It really depends on the paper that you use. Most of our customer pay between $3.50 and $4.50 per sheet set, so if you need a 10″ X 16″ design, that's what it costs.
BUT you can fit tons of left chest logos or hat transfers on a single sheet, so those can cost as little as a $.25. 
Unlike screen printing, for example, the Digital HeatFX systems require no physical set up or time doing things like color separations. And it doesn't care how many colors an image uses either!
P.S. Ask about the Paper Savers Club – it's how you get the best prices.
How long do the transfers last?
There is no way to get an exact number. Here are the things that determine how long a custom t-shirt will last when the image is applied. These factors are true of any technology, not just white toner transfers!
1.  Will you be using HE (high efficiency) laundry detergent?
2.   Any fabric softener?
3.   Hang dry or dryer? If dryer, how hot will your dryer be?
4.   What t-shirt blank will you be using?
• High quality shirts last much longer.
• Will it be cotton, polyester or a blend?
• Did the manufacturer treat the shirt with anything to repel water, stains or improve color fastness
5.   How well did you apply the transfer? Is the pressure and temperature accurate on your heat press?
6.   Does the design have any breathable areas, or is it a solid block of print?
So here's our rule of thumb, because obviously you cannot answer all of the questions above.. and neither can we… about 30 washes. Maybe up to 100, maybe as low as 10 with a cheap shirt, a poor application technique and/or a bad press.
Can this system produce metallic, reflective, glow in the dark or neon transfers?
Yes!  Simply print your design on our EZ Metallic or EZ Neon transfer paper instead of our classic EZ Peel transfer paper for CMYK transfers.  A special metallic or neon coating on these papers creates transfers with vivid color and sparkle unmatched by process printing alone.
Here's a great example: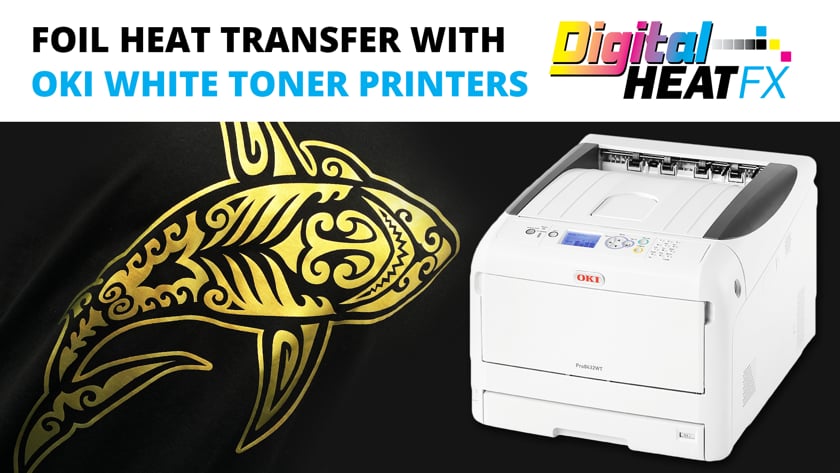 What are my Options for the Printer?
There are several different bundles offered as part of a Digital HeatFX system. Each one can be tailored for you business as well.
Two Options we ALWAYS recommend are a very high quality heat press and the Paper Savers Club
The Paper Savers Club is a subscription service where we will ship you the Laser EZPeel paper that you need to run your business at regular intervals. It saves you from forgetting to reorder and paying extra for rush shipping AND it ensures you get awesome pricing on your supplies. You SAVE BIG!
One of our most popular equipment bundles is the DFX 24 – which includes the Digital HeatFX system AND a 24″ cutter for using heat transfer vinyl. Talk to you account manager about that option… it's a money-maker.
Where can I order supplies?
Toner, other printer consumables, and our very own line of Laser EZ transfer papers can be ordered through our e-commerce website Colmanandcompany.com or over the phone at 800-891-1094
Is the OKI 9541 or the OKI pro8432WT wireless?
It is networkable and can be directly connected to your personal computer, a networked computer or a networked router.
What price can I sell a Shirt for?
You SHOULD be able to get $12-$25 for a full color custom t-shirt. Don't try and compete with a screen printer's $7 one color shirt. You'll go out of business. That's not your niche.
 Here's a poll of real-life t-shirt printers and their average sale prices at events to give you a better idea:
You may decide to sell for less or you may sell for way more, but that depends on your market.
Don't forget to bundle custom t-shirts with koozies, coasters, bags.. .you can do a LOT with the same Laser EZ Peel paper!
Can I Print on Stretchy Material?
Can I print on Spandex or other stretchy material?
Yes you can. And we DO have customers that do this all the time. But transfers do not stretch. The image will not stretch.
Having said that there are some techniques you can use to make it work better with some stretchy materials. The worst that will happen is that your image will crack. That might be a big deal if you're pressing a photo image, but not so much if it's a distressed graphic.
And ALL the stuff we talked about before – about shirt blanks – same thing applies to stretchiness.
What graphics file types can I use?
Vector files like an .EPS or .AI are always optimal for printing. However you can use .JPG, .TIFF or .PDF and utilize plugins to remove backgrounds and other colors. When using raster images, be sure you are using a very high quality image. Poor quality graphics, will yield poor quality prints.
Do I need to be a Graphic Artist?
You do NOT! It's great to be able to create your own designs in the GIMP graphics software, CorelDraw, etc, but there are plenty of talented people will create custom designs for you. And it's not expensive. You can start here, with http://coldesi-graphics.com – they know how to design for digital transfers!
Where can I buy the blank t-shirts?
ColDesi's Supply division, Colman and Company, not only sell the EZ Peel transfer paper and the toner you'll need. They sell wholesale apparel too! https://colmanandcompany.com/apparel.html
You can get blank t-shirts, hats, bags and a lot more. No reseller license required.