Direct to Garment (DTG) Compared to Transfers Using White Toner Laser Printers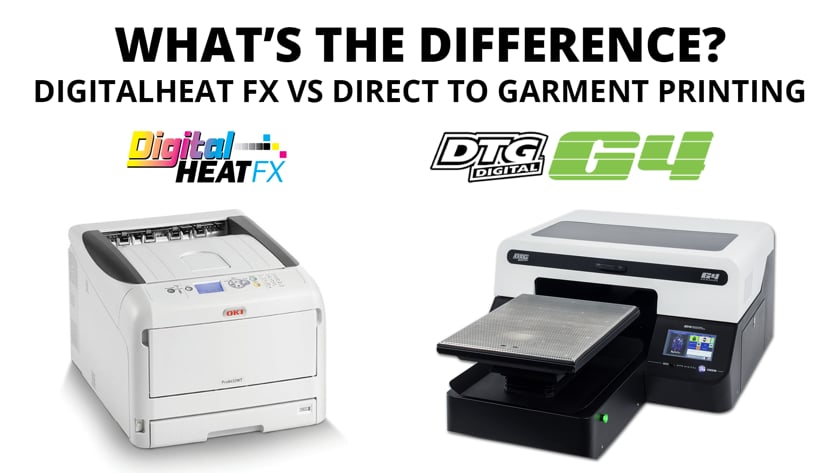 Add a header to begin generating the table of contents
ColDesi has a unique edge over other sellers of both direct to garment printers AND white toner transfer printer sales companies.
Because we sell both white toner printers, like the OKI pro9541WT [Now branded the "Crio" 9541WTD white toner printer], the OKI pro8432WT [Now branded the "Crio" 8432WTD white toner printer] or laser printer under the DigitalHeat FX brand, the DigitalHeat FX i550 and the G4 DTG Printer.
ColDesi is the largest white toner printer dealer in the world AND one of the original companies to bring DTG to the US market.
We also provide Mutoh and Compress UV printers, Graphtec Cutters, the ProSpangle and CAMS bling transfer machines and more.
So our edge is that we can talk to you about your business and then recommend the best solution to fit – not look for ways to fit a round custom apparel peg into a square hole. If you want to print or make custom t-shirts, we've got plenty of options.
Once you're done here you can visit http://dtgprintermachine.com if you decide that's the better fit!
So, the FAQ below is based on intimate knowledge of BOTH technologies we're comparing.
Let's start with what MOST people's first question is… What's the price?
What Are the Price Differences?
There's a rule of thumb in the customization or print on demand equipment business. That is that there is an inverse relationship between the cost of the equipment and the cost of the product it produces. These 2 technologies are a great example.
Can one printer be used for both light and dark garments?
This question comes up because sublimation, another popular t-shirt making technology, can only print on light colors.
How long does it take each machine to image the garment?
The OKI8432WT [Now branded the "Crio" 8432WTD white toner printer] takes about 15 seconds to print each transfer sheet. Plus *75 seconds to "marry" the transfer and 45 seconds to heat press the transfer onto the garment.
You'll also typically want to trim the transfer a little and spend a few seconds positioning it correctly on the shirt.
So if you're just doing 1 shirt we can call that about 3 minutes.
Transfers can be printed and stacked immediately but it's best if you marry them first if you're going to store them.
*Temperature, pressure and time recommendations change – please consult instructions IN THE BOX of paper you are using for specifics.
DTG G4 printer machines takes about 2 minutes on average for imaging the shirt.  You'll take about 3 minutes between pretreat and curing on the heat press, so 5 minutes to produce a 1 off shirt design is about right.
What other substrates can be printed?
What about Hard Goods and Other Durable Surfaces?
What daily maintenance is required?
This is an important question for home based businesses and schools especially. It used to be that direct to garment printers needed to be printed with every day. Maintained every day. Or there were expensive, serious consequences.
But with the advent of the G4 that's no longer the case.
What about Printheads and other Parts?
How much DTG ink is wasted on cleaning and flushing?
What is the average cost for a print?
The cost here is in the transfer paper. Toner cost is negligible. Transfer papers usually cost between $3.50 and $5.00 per sheet depending on the type you choose. Though one printer, the larger 9541 can use 13″ x 19″ paper that may be more expensive. These prices change as new options become available, so speak to a rep or visit this site for current paper pricing.
So if you can get 2 prints onto one sheet, or 4 prints, you would just divide the price of the sheet. 
$.28 white shirt | $1.62 dark shirt
DTG costs about $.28 in ink to print on a white shirt and $1.62 to print on a dark shirt – there are specific examples on that page. Plus pretreat costs.
As you can see, this is where that inverse relationship between machine cost and the cost of the result. The G4 will produce a full size or oversized graphic for about $3.00 LESS per shirt than a white toner transfer.
And of course, just like the Crio printers, you'll use one printer to make prints on light or dark color shirts.
How long does it take to learn the software? How easy is it?
First – creating compelling t-shirt graphics and logos is art. And it requires software like CorelDraw or Photoshop. No-one selling equipment like this will do your designs for you… at least not for free.
So some people will learn that software quickly and some won't. Some will have a good eye for graphics and some don't. Learning that software is not a guarantee of great art for t-shirts.
Both of these machines, when purchased from ColDesi, come with Gimp graphics software so you CAN create your own designs. But training in that is not included – you can purchase a course if you'd like though, just ask a salesperson.
RIP Software for PROCESSING Images
Both sets of printers come with a RIP software though. Print Optimizer for the DigitalHeat FX white toner printers and RIP Pro for DTG G4.
What type of warranty is offered?
Let's differentiate something important here.
When you buy a system from ColDesi you get free training.
You also get free telephone and online technical support for as long as YOU own the machine.
More Questions?
Chat below to speak to a pro about custom t-shirt decorating or call 855-348-4839