Foil heat transfers are a t-shirt maker's secret weapon. You can produce crowd pleasing, profitable results in no time with the DigitalHeat FX 8432 system you'll learn more about below!
This system offers you the versatility to create full color t-shirts and custom hard surface goods. And that's what all of our customers do, of course. BUT, our EZ Peel Metallic and Neon Papers offer you a unique opportunity to get more attention and make more money in addition to full color custom t-shirts.
Let's break down some numbers.
Foil Heat Transfer T-Shirts for Sale
After a quick online search on websites like Etsy, custom t-shirts with metallic or neon detailing are retailing anywhere from $15 to $35.  
AND these shirts are not really custom the way a white toner printer owner would think about it. 
Most t-shirt sellers we found limit customers to "your text here" applications. Those types of "designs" don't command the same pricing as a something like a neon or metallic design would.
So comfortably let's say you can retail custom metallic and neon t-shirts for at least $25 each.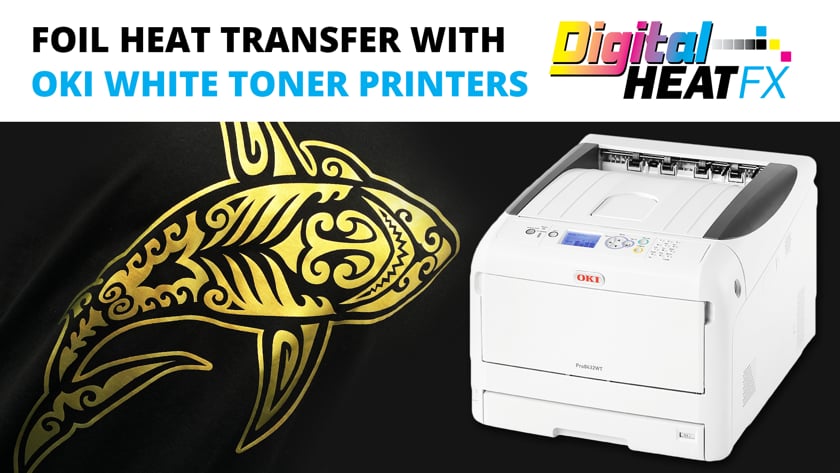 Foil Heat Transfer T-Shirts – Costs to Produce
The better the quality shirt, the better the image and happier your customer will be. For all of our sample shirts we send out and for this project we used a District Perfect Weight Tee (DT104).
This is a premium 100% cotton t-shirt that can be found on colmanandcompany.com for $4.78 a piece. Just like you can offer 8X10 neon designs that only cost $1.95/image, you can find lower quality blank shirts for ½ this cost if that's what you want.
This means with the t-shirt and paper costs it will cost you about $6.73 to make each custom metallic or neon t-shirt.
How much can I make selling Foil Transfer T-Shirt designs?
The DigitalHeat FX System based on the OKI pro8432WT is FAST. Each shirt is only under the heat press for about 3 minute's total.
Foil Transfer Printer Return on Investment
Here's the fun math on making metallic and neon transfers:
With an average financing price of $242 a month for our DigitalHeat FX Basic Package you can ALMOST make your payments by selling just 12 t-shirts a month.
Everything after that is pure profit!
More about Foil Transfer Supplies:
The versatility of the DigitalHeat FX System is unmatched. Live chat one of our pros today to get started or call 855-348-4839