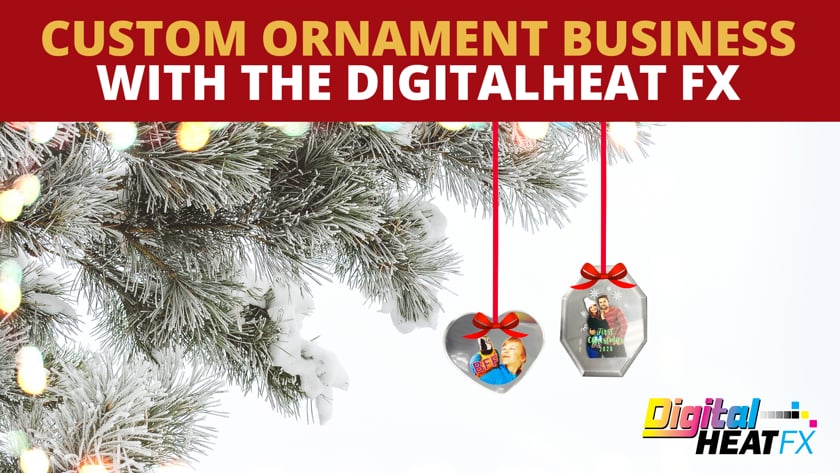 How to make a business by printing on glass: Custom Glass Ornaments
Once you know how to print on glass, you can design and personalize custom glass ornaments. This is an easy way to start a niche business…especially during the holidays. Because ornaments are small and the EZ Peel Hard Surface Paper is 11"x17", you can affordably print several glass ornaments at once.
What can you print on glass ornaments?
Photos are the best way to customize a glass ornament. A digitally printed, professionally quality portrait on a glass ornament, like the ones in the video, looks awesome. These are the kind of things that get the buyer's attention. Christmas and the surrounding holidays are a great time to print memorable designs on glass ornaments. Baby's First Christmas, Best Friends, Family Photos, Weddings & Anniversaries are just a few popular ways to get customers excited. 
How much money can you make printing on glass ornaments?
You can find glass ornaments for as little as $4 apiece. But if you wanted to get a higher quality glass, like crystal, you could easily increase your retail value. After a quick search on Etsy, we found that custom ornaments retail for around $30. But here's the thing… none of them are digitally printed, full-colored portraits! That means you are automatically ahead of the online competition.
How to Sell Printed Photo Ornaments Online
Selling personalized things is much easier than ever. Have you seen ads on Facebook for custom t-shirts, signs, cards, mugs, etc…. imagine a custom glass printed ornament ad on social media around the holidays?
Overall printing on glass is something that is easy to learn and can be a very profitable endeavor. What is especially exciting is that white toner printing systems are fairly new to the market. They have been around long enough to have proven themselves to be a great technology, but not long enough where the market is saturated. You can offer printed glass ornaments that no one in your area can even produce. This is an exciting technology and a great way to print on glass.