Making Father's Day Gifts with EZ Peel Paper
Our line of EZ Peel Paper includes EZ Peel One-Step Paper, EZ Peel Two-Step and EZ Peel Hard Surface Paper. These options make it easy to customize a wide variety of goods from t-shirts to ceramics.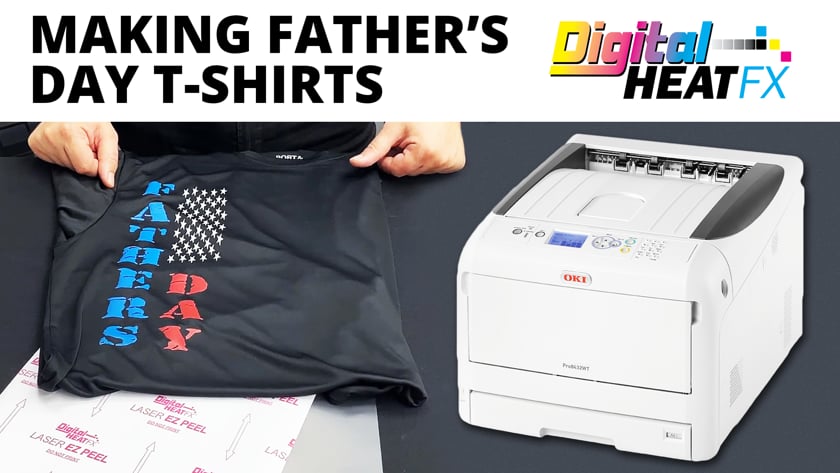 What is different about using DigitalHeat FX to customize promotional goods?
Can go on Dark and Light Colors
No liquid inks to deal with
Substrates don't need to have a special coating
You can do things you competition can't!
This is how you customize t-shirts and hard surfaces like Wood, Metal, Mugs and more. Learn how to apply DigiitalHeat FX transfers:
1. Download complete instructions from https://colmanandcompany.com/DFX_Paper.html
2. Heat your press to the desired temperature (usually between 265-390 degrees)
3. Place the transfer on your t-shirt, mug, wood, glass, etc
4. Place the item into the heat press (you may use a finishing sheet or a silicon pad on top – depending on instructions.)
5. When the time has elapsed, open your heat press. You may be peeling the transfer hot (like with OneStep) or waiting for it to cool down (like with Hard Surfaces). Check your specific instructions for this.
Finishing Process:
Some items will finish by pressing again in the heat press and others will finish in an oven. 
Your custom t-shirt business has never been more worry-free. Talk to a pro at 855-348-4839 if you have questions or need a custom quote.