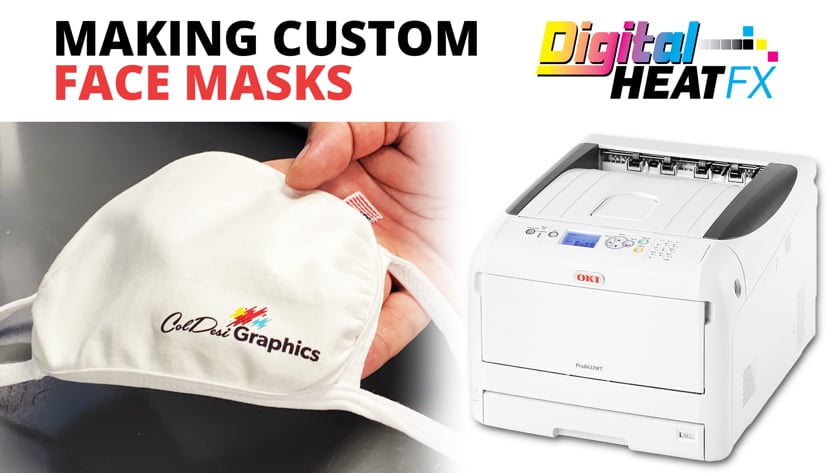 Our DigitalHeat FX System is a great system for making custom t-shirts, but it is also a very versatile system that prints transfers that can be heat pressed onto so much more, including wood, glass, metals, polyesters and face masks.
As part of uniform, companies are beginning to put their logos on facemask for employees to wear. And for casual wear many people want a face mask that represents their unique style.
But here's the thing…. Face masks are a BIG MONEY MAKER.
Blanks are inexpensive and customization is cheap and fast! Let's break down some numbers.
After a quick social media poll on our Custom Apparel Facebook page, our customers are retailing custom masks anywhere from $10 to $20. Companies like Steve Madden are selling fabric masks for $14.99 a piece. Our customers are selling large orders branded with company logos as well as one off, fully custom masks. They are making BIG MONEY from custom facemask sales. Read for yourself what they have to say:
"So I jumped on this 2 months ago and have sold 10,000 custom masks." – Jim
"I have sold about 200,000 of them since end of April…received a $37,000 order today.." – Ray
"I had 9 businesses hit me Friday for branded masks." – Sheri
"Our wholesale clients are reselling them (masks) for $15-$20." – Brenda
With this research, it's easy to see you can get at least $15 each for a completely customized face mask.
Now, on Colman and Company you can find cotton, made in the USA, masks for as little as $1.85 per mask. We were able to fit 60 logos on one sheet of our 11 x 17 EZ Peel Transfer Paper. That means each logo costs about $0.07. This means each logo face masks costs you under $1.92 to produce. And this is for a full-color print.
By gang printing and fitting 60 logos on each sheet of EZ Peel Paper you can produce these masks FAST. You can comfortably fit 8 masks in the Hotronix Fusion Heat Press at once. Let's say you fill the whole heat press platen with 8 masks; all of these together will take about 3 minutes from start to finish to complete. Including an extra minute of extra wiggle room time, you can easily flip the bed 15 times an hour. That means you can produce 120 face masks for just one hour of work.
By retailing each custom face mask at just $15 a piece you generate $1,800 in revenues in just one hour!
After subtracting the cost of goods, you are able to put $1,569.60 in your pocket for just ONE HOUR OF WORK!
Custom Face Masks Return on Investment Here's the fun math on making custom face masks with the DigitalHeat FX system: With an average financing price of $242 a month for our most popular printer the DigitalHeat FX 8432 you can make your monthly payments by selling just 19 custom face masks a month. Everything after that is pure profit!
The versatility of DigitalHeat FX System is unmatched. Live chat one of our pros today to get started!