Heat Transfer Printing Return on Investment
Any start-up business owner who plans to add heat transfer or t-shirt transfer printing equipment is going to want to calculate the costs.  With the recent rise in popularity of the white towner printers and the Digital Heat FX "no weed" systems, getting your ROI on heat transfer printing is worth the money you invest.
Even if you're adding additional equipment to your business, before you start cranking out t-shirts, you'll want to make sure you're getting the best Return on Your Investment (ROI for your heat transfer printing). How much are you making on each shirt… and what does that mean at the end of the month?
Getting the best ROI is critical to meeting your overall goals for success.  But HOW can you KNOW what kinds of profit you can make?
Here we're going to answer that question by showing you how heat transfer printing can add some big $$$ to your income each month.
We've had our Digital HeatFX system since March. We had to make our first payment. The only reason for that was because we got the equipment week before payment was due. Never looked back since. We do this part time and we turned $6-$7000 dollars last month in heat transfer printing shirts alone. My wife works 60 hours a week and I work 56-70 hours week. Then we work the Tshirts. We have one customer in Chicago and we sell transfers all over the US. Facebook, word of mouth, and good quality work. Schools are the best for us. We had sold one shirt to my wife's cousin who works for a school. She has sold 200-300 shirts for us. She is good advertisement.
Heat Transfer Printing Is Highly Profitable.
Don't just take our word for it.  Getting a significant return on investment involves many things:
Reducing Your Materials Costs
Maximizing Your Efficiency
Controlling your Labor Costs
Having Flexible Production
Scalability & Speed
We're going to cover all this and more.
However, before we can talk about ways to improve ROI, we need to learn how to calculate the costs of heat transfer printing.
That you can calculate your costs very accurately is one of the appealing things about the Heat Transfer Printing Systems like the DigitalHeat FX™.
Of course, some costs are going to be the same for each garment (fixed costs).  Others will vary (variable costs) depending on the size of the design.  However, both types of expenses are easy to calculate.
Start with Fixed Costs - Costs That Don't Change Per Item.
Any costs that do not change with an increase or decrease in the amount of the goods or services provided.
These are expenses that you'll have to pay regardless of if you conduct any business activity or make any sale that month.
Typically, this would be the lease payments, electricity, monthly maintenance & miscellaneous supplies, and other fixed overhead costs.
NOTE: During this look at profitability there are two things we CAN'T know – how much your rent and electric are, and how much you're going to pay yourself and your employees. You'll need to use your numbers in these slots when calculating your ROI.
These fixed costs get divided into each job depending on the number of jobs you produce each month.
FIXED COSTS EXAMPLE
Monthly Costs
Lease Payment: $230 (estimate) Note: 70% of our customers finance their equipment
Electricity: $15 (for the heat transfer printing equipment only)
Maintenance Costs: $10 (misc. yearly costs)
Monthly Toner Costs: $35 (average shop usage)
Total: $290
Now, we take those fixed costs and divide by the number of shirts you expect to produce.
But, how do you know how many shirts you will average?
Here we have the answer for you.  Our customers have told us that it's typical to sell about 300 shirts a month when starting out.
Of course, you may end up selling fewer shirts for a higher cost per shirt, or you may end up selling more shirts.  Regardless, you can expect to aim for 300 shirts a month.
So, what's that look like?
To make it simple, let's say you start telling everyone you can do customer t-shirts. You introduce yourself to only 20 new contacts this month. Consider all your Friends, Family, Coaches, Schools, Churches, Clubs, Etc. It adds up.
Once people know you can do heat transfer printing on custom t-shirts, you'll be surprised how many groups will try to find YOU!
Sometimes you'll sell multiple individual orders at $22 or more per shirt, and other times you'll sell 500 shirts at $9 to $11 per shirt. But for this example, (which is typical of a start-up) we will ONLY consider 200 shirts per month.
That's right – even though our survey of 7,000+ people said they sold 300 shirts/month getting started, we're only using 200 – in most cases, that's all you'll need!
Ignoring for the moment what you sell the shirts for, let's just concentrate on the fixed costs.
You'll take your $290 in fixed costs and divide that by the 200 garments you expect to sell. That's ONLY $1.45 per garment in fixed costs per month on average.
You'll add this amount to every heat transfer printed item you sell.
That's not much really when you consider the more expensive t-shirt systems like screen printing or full-shirt sublimation.
Your fixed cost gets divided by how many shirts you sell.  So…
Higher sales volume leaves more $$$ in higher profits!
Polos

Hats

Koozies

Baby Clothes

Canvas

Pants

Bags

Ceramic Plates

Mouse Pads

Polos

Jackets

Caps

Mugs

Jigsaw Puzzles

Glasses

Signs

Ceramic Tiles

Books

Awards

Wood Plaques

Metals

Tote Bags

Lunch Boxes

And More…
NOW ADD VARIABLE COSTS Garment & Transfer Material
Now let's talk variable costs. They fluctuate with production volume and will depend on how much you sell and how many orders you receive that month.
And, the incredible thing about the Digital HeatFX system is that you are not limited to just T-Shirts.
Calculating the variable costs is nothing more than gathering all the expenses that change with each job.
The garment/item cost is typically the most substantial cost involved.  It's the cost of the blanks that you will usually buy from a wholesale garment company
In the case of T-shirts, however, the costs are not that much more than your fixed costs.
A typical generic t-shirt costs somewhere around $2.25 per garment. However, often the wholesale companies will offer sales on specific shirts and you can get a better deal. Here's an example of a popular shirt by Sanmar that's on sale (limited time, locations) for $1.49 each plus shipping.
Even better than that, T-shirt Transfer Systems like DigitalHeat FX make costing your jobs more convenient than other systems because the rest of the costs involved are simple straightforward calculations.
In the case of say an imprinted Yeti® Mug or Tumbler, the item cost can be much more than the fixed costs.  As much as $20 per item or more.
Examples:
Left Chest Logos:
4″ wide by 3″ tall  = 12 Square Inches X .023 = ONLY! 27 Cents /design
Koozies:
2.5″ wide by 3.5″ tall = approx 9 square inches X  .023 = 21 Cents per print.
Chest Print:
11″ wide by 6″ tall = 66 Square Inches X .023 = $1.52 /design
Full Front:
11″ wide by 13″ tall (huge) = $ 3.29 /design
*** The figures used are approximate. You must reduce the printable area depending on the size of the paper you buy.
Cost of the Print Paper & Transfer Paper
Here we've done some math for you.  We've reduced the costs of BOTH the "A" and the "B" papers down to a price per square inch.
It turns out that depending on how much paper you buy at once (volume), the cost per square inch is minimal.
It works out to only 1.9 to 3.2 Cents per square inch. The more you buy at once, the better your price will be.
Make sure you ask your sales rep about the "Paper Savers Club" A great deal for anyone planning to do an average volume
For the average Heat Transfer Printing Company, we'll use 2.3 CENTS per square inch as our average.  That's also the same as .023 dollars per square inch.
We have all the individual costs needed.   Now comes the fun part.
Your Paycheck!
For our example, we're going to use the normal price for a generic t-shirt of $2.25 (2XL and above cost more) and we will assume a chest print design like shown.
The Figures:
$2.25 – Garment / Item Cost   +
$1.45 – Fixed Costs (Lease, Elec., Toner, etc.)     +
$1.52 – Paper Costs (see above)
Total: $5.22 costs per shirt.
We've made other cost comparisons in the past, and according to our customers, this shirt in full-color custom print would easily sell for over $22 per shirt if sold as an individual shirt.  If your customer orders more shirts, then the price would be lower.
For our purposes, we will assume your average shirt price to be $16. And we will assume ONLY 200 shirts per month.
So, you can do the math from there. That works out to $10.78 profit per shirt!
Or in this example with these three orders: $2,156 Extra $$$ in your Pocket!
Now that you know how to go about pricing your custom t-shirts and other items such as nylon, etc. Your next goal is to Maximize your ROI.
As promised above, here's, even more, you can do to increase your Return on Your Investment.
Maximizing Your Efficiency
DigitialHeat FX with the EZ Peel Papers is more efficient than screen printing or full shirt sublimation because you can print multiple logos on one sheet of paper to maximize your output.
Check out this example where we've printed X number of left chest logos on one sheet.
Mix and match multiple logos on different sheets to maximize your efficiency and improve your ROI.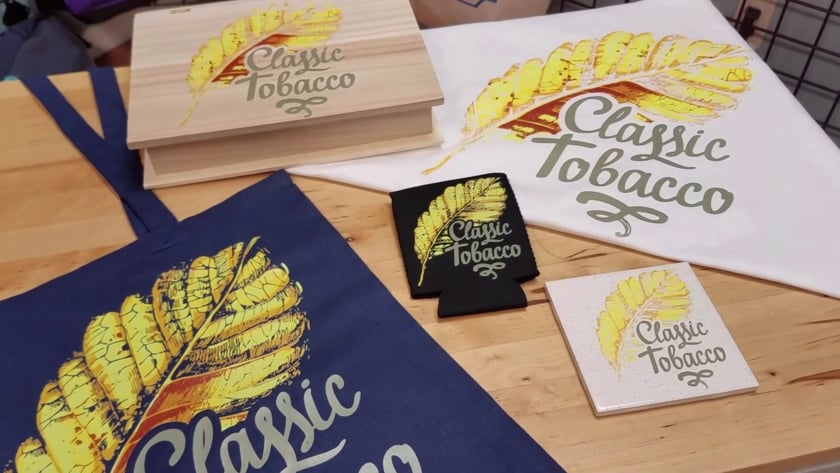 You've seen the videos. One of the most appealing things about the DigitalHeat FX System is that you stabilize your labor costs.
Unlike screen-printing or other processes, the amount of time you spend per shirt doesn't change that much.
Whether you are printing dozens at a time, or one at a time, your labor costs are the same per item.
It's easy to calculate and easy to control.
Being Flexible Reduces Costs
With Screen-Printing, you have to make up an individual screen for EVERY color of ink. You have to spend sometimes an hour just cleaning the ink and preparing. Plus, drying time.
But our printer allows you to do print on lights and darks in full color in whatever size you want without additional setup costs.
Heat Transfer Printing is FAST!
We've saved the best for last. Heat Transfers are Fast!  You can make up tons of transfers before you go to an event and let your customers pick-out precisely what they want.
Then, with a 30-second press, you can hand them over a finished product ready to wear. No other custom t-shirt process is so portable and so fast at events.
Do you know Groups, Clubs, Churches, etc.? If so, then you already have some built-in markets to target. Go for it!
The DigitalHeat FX System
The DigitalHeat FX system an industry professional heat transfer printing solution partnered with ColDesi's training and support gives you the best opportunity for success creating custom printed T-shirts. Here what our customers have to say…
I have bought several pieces of equipment from ColDesi and have used their support numerous times. They are always very helpful and eager to help figure out how to best help. Everyone from the sales team, support and marketing are all friendly and encouraging. If you are looking for equipment or supplies for your small business, check out ColDesi and their supply company, Colman and Company.
The ColDesi team rocks. They are completely determined help you in every way possible. I could not have made the educated decision on what may be my best purchase had I not discussed all options with Tristan Lang and Don Copeland. They answered all my questions with the authority of someone who knows what they are discussing.
Best customer sales and support I've experienced! Brittany and Ryan have made the purchase, training and support so easy! Thank you guys.
Get Started Today with Digital HeatFX!
For more information about starting your custom apparel business using Digital HeatFX call 855-348-4839 to speak with a product specialist today, chat, or contact us below.