The UniNet iColor 550 has been part of the DigitalHeat FX white toner printer lineup for several years. So with the addition of the iColor 560, it makes sense to consider whether or not to upgrade.
Just to be clear, the i560 is a replacement for the UniNet iColor 550. So while there may be some new in-the-box units left it's probably not a great idea to purchase a brand new i550.
Also, when we talk about both of these t-shirt transfer printers, we'll be comparing the DigitalHeat FX versions.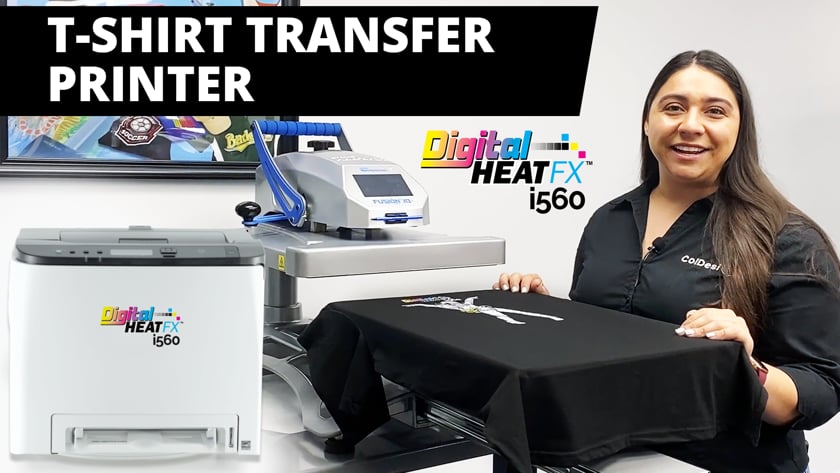 DigitalHeat FX White Toner Printers
The DigitalHeat FX brand white toner printing bundles are the best selling products in the market.
That's because, while our entry level toner printers are manufactured by UniNet, the most important parts of starting a business are added by ColDesi.
All of our DigitalHeat FX packages include:
Print Optimizer Software
Print Optimizer is the software that sits between your graphics application and the printer. Both the UniNet iColor 550 and UniNet iColor 560 come with a custom version of Print Optimizer.

For example, if you were to create a t-shirt design in CorelDraw or Photoshop you COULD just print directly to the iColor printers. But you would want to send it to Print Optimizer first so you could:
If any of this sounds complicated, don't worry. One of the main reasons you should choose a DigitalHeat FX i560 or i550 is because of TRAINING.
UniNet iColor 550 | DigitalHeat FX Training
The i550 and i560 are a great value. And since they are based on what looks like a regular office full color laser printer many people assume, they can use them right out of the box.
And if you watch any of the DigitalHeat FX i550 or i560 demonstration videos we make it LOOK easy too!
But what truly makes it easy to use is the training we did. The training we include for every customer that purchases a full DigitalHeat FX system.
When you buy an iColor printer from box sellers you get pointed towards a YouTube channel.
When you get a DigitalHeat FX system you're buying into a success system. And that starts with registering you for our exclusive online training. We use a commercial learning management system and carefully design lessons – by our in-house pros- so you can get up and running and making money FAST.
And you have lifetime access! So as you grow, your employees can get trained as well. As WE grow, we can add training for new and exciting things.
UniNet iColor 550 Technical Support
The company itself provides good technical support for their printers. And the warranty provided for the UniNet iColor 550 and 560 is great.
But the ColDesi is the expert in the customization business as a whole. And we have an in-house team of experts that actually USE the printers. And make t-shirts with more than just white toner printers in general.
Our DigitalHeat FX support team is expert in UniNet, OKI and Crio printers – and the process of going from a graphic to a finished product in EACH.
ColDesi/DigitalHeat FX support is free for as long as you own the system.
DigitalHeat FX has it's own line of one and 2 step transfer paper.
If you don't know what that is yet, not to worry, you get enough supplies with every DigitalHeat FX system.
And of course, you get training on how to use each different type.
Heat Press Machines for White Toner Printing
If you are considering upgrading from the UniNet iColor 550 to the i560, you already know this. You have to have a high quality heat press machine for making and applying these transfers.
There are a few options that ColDesi includes as part of the DigitalHeat FX i560 system that have a few things in common:
Don't worry, we ONLY include the right heat press machines with DigitalHeat FX systems!
Upgrading to the UniNet iColor 560
We've had bot the i550 and i560 in our showroom and our support and training staff has investigated both. In our opinion, there's no reason to upgrade your UniNet iColor 550 to the newer model.
That's provided your current printer is working well, of course!
If you'd like to expand your capabilities though, consider one of the following:
Or the Roland BN-20 – Print/Cut Machine
You probably get requests for stickers, banners and signs that you can't quite fill with your toner printer.
The BN20 prints with ink onto 20" rolls of printable vinyl. Every print is far less expensive to produce than a white toner transfer, and you mass produce t-shirt designs, stickers and banners.
It's attractively priced too! You can learn more about that here.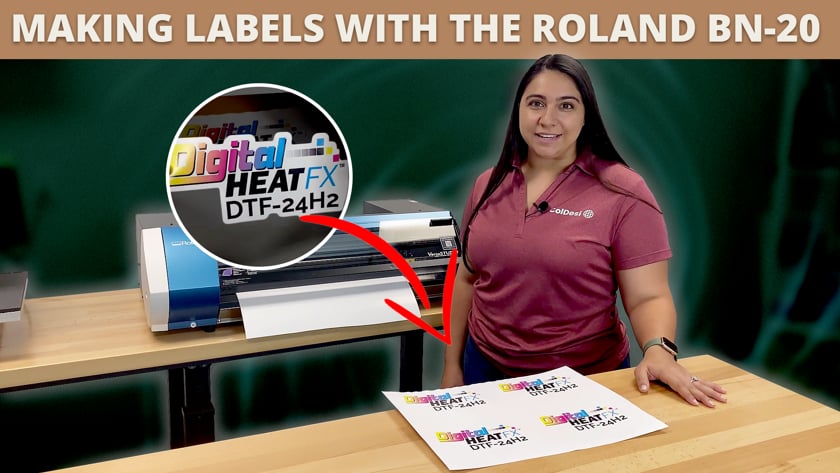 Regardless of where you're business is growing to – ColDesi has the expertise and the equipment to help!
For more information on DigitalHeat FX i550 and i560 printers and the customization business just chat below or contact us here.