So, you're looking for a versatile printer that will allow you to customize a wide variety of products from t-shirts to mugs without breaking the bank but don't know where to go… 
This is where white toner printing comes into play.  
At ColDesi, we offer white toner printers under the brand DigitalHeat FX.  
There are a few printers to choose from like the iColor 650 to help you start or expand your business. 
But before we get into the details of the iColor 650 printer, let's go over the basics of what white toner printing is. 
What is White Toner Printing?
White toner printing is one of the easiest and quickest ways to enter the customization world. 
Unlike other decoration methods, white toner printers allow you to print white. Plus, these transfers can go on both light and dark materials ranging from cotton and polyester to ceramic and wood.  
There is no liquid ink involved, just toners so these machines require little to no maintenance.  
That's right, no pretreat spraying, screen print set up, or weeding is necessary. This is what separates white toner printers from the rest.  
With white toner printers, there are only a few items you'll need to get set up: 
Keep in mind that if you're trying to customize items like mugs or caps there are specialty heat presses that you will need. But for now, we're just going to talk about decorating t-shirts.  
What is the iColor 650 printer?
Perfect for a home office or kiosk, this desktop sized white toner printer is perfect for you if you're looking for speed, ease of use, and savings.  
Some of the other things that separates the iColor 650 from other white toner printers is the toner swapability.  
It's a four-color system but you're able to swap out your standard toners for bright fluorescent and metallic toners if you're working on a more unique project.  
Plus, you can also swap them out with sublimation toners!  
So now that you know a little more about the iColor 650 white toner printer and what it can do, let's teach you how to make your first t-shirt!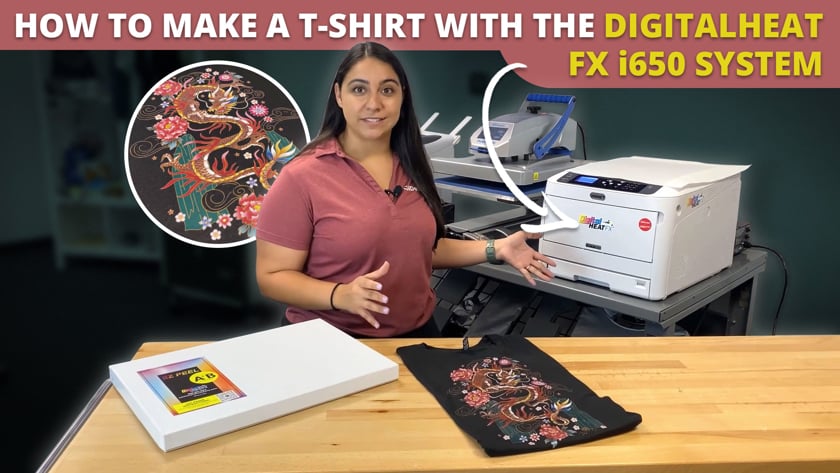 How to Make Your First T-shirt
This is the exciting part! Now you're going to learn how to make your first t-shirt using the Uninet iColor 650 printer.   
Step 1. Load the "A" clear printable sheet of the EZ Peel Two Step Paper into the front panel of the printer. 
Note: Make sure to load the paper in with the print side facing up. 
Step 2. Bring your design into the Print Optimizer Software, making any adjustments necessary, and print!  
Step 3. Following the instructions that can be found online for the EZ Peel paper, set your heat press to 285 degrees Fahrenheit for 100 seconds at a medium pressure. 
Step 4. Once the heat press is ready, lay the "A" sheet on the press (printed/ frosted side face up) and add the "B" adhesive sheet right on top of it. Add a finishing sheet on top and press!  
Step 5. Remove the finishing sheet and peel the "B" sheet from the "A" sheet slowly, without lifting the sheets from the bottom platen of the press. This is what we call the "marrying step." The adhesive from the "B" sheet is ONLY sticking to the toner that is on the design.  
Tip: Perform the marrying step slowly and steadily. It's best to not pause or stop in the middle of this step or it will cause the transfer to ruin. 
Step 6. Trim the edges of the transfer to avoid an extra adhesive from pressing onto the shirt.  
Step 7. Prepress your t-shirt for a few seconds to remove wrinkles.  
Step 8. Add the transfer to the desired location of your t-shirt, add a finishing sheet on top and press!  
Note: Depending on what material the shirt is made of will determine the new time and temperature your heat press will need to be set to in this step. Refer to the EZ Peel Two Step Instructions for that information. 
Step 9. Carefully remove the t-shirt from the press and set it aside to completely cool down.  
Step 10. After the t-shirt and transfer are cooled down, rip the transfer off the t-shirt in a single, quick motion.  
Step 11. Place your t-shirt back on the heat press with a finishing sheet on top and perform a finishing press for 20 seconds at the same temperature. You can also use a flexible finishing sheet for the final press for a more textured look.  
Just like that, you've completed your first custom t-shirt with the Uninet iColor 650 printer!  
For more information on the iColor 650 printer and what else it can do, chat or contact us below!